Release Date April 2018
Austin Macauley UK Publishers
Listen to Katherine Webster's interview on 'Becoming Madame Widow' here:
Like so many women before her Katherine Webster distinctly remembered the precise second that she became a widow. It was on a chilly March afternoon, just 10 minutes to 3, when her husband of fifteen years took a breath for the last time and left her for an otherworldly place. At that moment she was alone for the first time in a way that she never could have imagined. She had no idea what was to come. No one could have predicted the feelings of fear, self doubt, despair and anguish.
But then something else happened. She discovered a different world as a newly single person.
From the mystery and challenges that accompanied her new aloneness, Katherine learned to fall in love with a new life, the life of a modern widow, not only managing but mastering the demands and threats of an existence which was left in tatters by a disorganized and slightly immature spouse, learning, as she went along, to finally and completely grow up. The question "Who am I now?", her main concern, was ultimately and decisively defined. This is Katherine Webster's story of how she learned to survive and thrive, blossoming into a true Madam Widow.
This is an excerpt from book "Becoming Madam Widow" available now at Amazon, Amazon Canada, Amazon UK, Amazon Australia, and fine bookstores everywhere.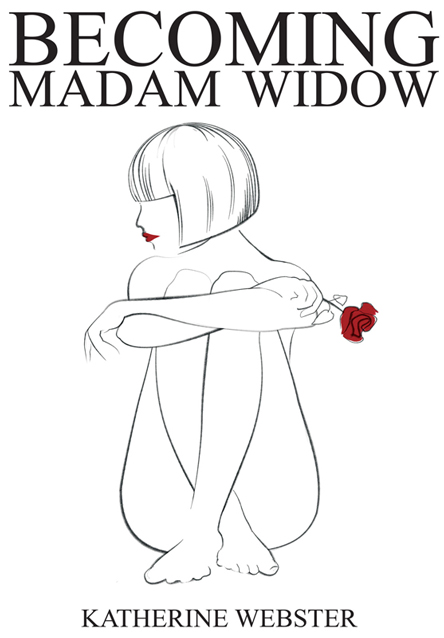 Prologue
I've been in Paris during all seasons of the year and each one has its own charm, but I think my most favorite are when I'm there alone. Fashion Week in this great city, which is a time when designers from around the world present their goods to buyers and boutiques, takes place twice a year in the early spring and late summer/autumn. I was here in March of 2015 to check out my competitors and also to investigate for a concept that my husband, who was also my business partner, thought might be a successful Internet project. It was a big idea, huge actually, but we mused that it might be something that would fill a gap in the fashion world and also attract the kind of investors needed to make an idea like this go.
Traveling alone was something that I had learned to do; in fact I rather welcomed the opportunity to meander around at my own pace and with a completely personal agenda. I was now in the habit of taking business trips and exploratory vacations without a friend or partner and had been doing so for several years. I will admit that it's often more pleasant to share international experiences with another especially in a land where the language is foreign, but making the choice to not take excursions like the ones I had become accustomed to was a form of cheating yourself out of the glorious experiences of personal growth and joy that could never be replaced by the acquisition of material goods.
1
I was in my second marriage and by choice we had no children. For me, developing a smashing business of my own had been a dream since I was a school girl and the idea of a traditional family proposition had never entered my mind or heart. I was a dedicated career woman and although I had yet to experience the top tier business success of my life I had a multitude of ideas, strategies and splendid plans. It was these elements that kept me going, and driving forward.
I had learned to be a fairly astute traveler finding the most economical accommodations, transportation and dining experiences. Paris was a personal favorite city of mine and I had gotten to know all the intricate details of the varying arrondismont, the metro and the habits of the French. In the early days I traveled with my husband to this city of light but as he was no longer as intrigued by the sites and smells of France, I began the journeys there more and more frequently on my own. He never appeared to mind. We were two independent people in a modern relationship.
I had become expert in finding jewel box boutique hotels in the most charming of French districts, close to traditional shops, quaint cafes and within short walking distances to the all important metro. On each journey I would frequent the old favorite spots from our past but I was always certain to discover something new and tantalizing with each visit.
This time, however, would be different. In fact, it would be the last chance I would have to see Paris as the woman I was.
In every life there will be a moment, one single epochal moment, when something radically deviates from all of your well laid plans. Something so radical and earth shattering that it will forever change the person you are. That is, if you are lucky. I had no idea, in that early spring of 2015 that my moment was about to explode into a saga that was, for me, a life altering event.
* * *
In the north, spring often arrives late. The tail end of winter of 2015 had been ferocious with snow up to our armpits and a kind of cold that, as my father used to say, would freeze the nuts off a brass monkey. While we expected that the early part of March would signal the waning days of winter and the first elements of spring, March 3 would end up as a day of winter's full blown fury.. My overseas flight was to depart around the late dinner hour but because of a particularly vicious ice storm that would rage throughout the day and night we left for the international airport, normally an hour and half away, four full hours in advance. As it turned out that was a wise decision because traffic was moving at a snails pace over the ice covered roads and it took us almost the entire half day to finally arrive.
Large jets fly above the clouds and are therefore free of the dangers of a storm like the one we were experiencing. Consequently my flight, although delayed, because of de-icing of the jet and runway maintenance issues, would indeed be leaving.  In a few short hours I would be blissfully relaxing in my private hotel room in the most charming city in the world.
My husband was, by nature the most economical man that ever walked the earth. It there was a penny to be saved he would save it. I have now come to realize that penny pinching on this level is more an act of fear than it is of astute money management.
2
He was a communicator, that is, he loved to chat. For this trip of mine he wanted to make sure, as always, that the two of us were in constant contact with one another no matter where either of us was in the world. In the early days of our relationship he would use a set of cheap walkie talkies even at the shopping mall so he would know where I was and what I was doing. Actually I believe he was far more interested in what I was buying. As I mentioned he was an economical man and tried his best to dissuade me from buying anything, ever.
He did his research. He had figured out that if he switched the SIM card inside my smart phone and placed it into a cheap disposable model he had acquired for just this purpose and if I then purchased a short term SIM card upon my arrival in France he'd have the ability to call me for mere pennies any time of the day or night. This was both a pleasure and a curse as he would telephone me constantly to talk about nothing anytime he was moved to.
Late in the afternoon of March 4, Paris time, I received a call from him. It was the first one since my arrival in the city. I will admit that I was terribly jetlagged and a little cranky, so naturally I wasn't my most pleasant. As usual he jabbered on about something ending with the words, "And that's where I am now." For a moment I wasn't grasping what he was talking about as I wasn't really listening with all I had. So I asked in return, "Where are you now?" He then repeated that he was in hospital undergoing some tests for heart troubles.
His words to me were like a hard slap or a pail of icy water thrown in my face. I instantly forgot about my jet lag and began to throttle him with questions. What was going on? Was it a heart attack?  What did the doctors say and should I try to book passage home as soon as I could regardless of the cost or consequences?
His voice on the phone sounded completely normal, energetic as usual and he actually chuckled at my concerns stating that there was nothing to be troubled about, the doctors were just taking precautions and a few simple tests were to be conducted over the next few days. In fact, he said, that there was no need to panic, travel back or worry about a thing, that he would be in constant contact by phone and I should proceed with my plans in Paris scouring the town and the trade shows for the answers to the questions and ideas that we were formulating. Nonetheless I was more than a little worried and actually a little stunned because my husband was a fit, high spirited and healthy sort of man with no extraordinarily bad habits. Heart attacks didn't happen to people like us, they were for older men who smoked, ate the wrong food and lived sedentary lives. The entire notion was so far from reality that it simply could not be happening.
Over the course of my trip I was in constant contact with him. He was being moved from one hospital to another and it had been decided that he needed a surgery to correct a blockage that was causing some problems with his poor heart. Naturally this news sent me into a panic and I was prepared to rush back immediately regardless of the cost to be at his side. He again discouraged this stating that surgery was not urgent and would not occur until March 12th which was a Thursday. That was two full days after my arrival home. He then apologized as he couldn't pick me up at the airport and I would have to find the way back myself. This wasn't an unreasonable request as I had forever been an independent sort of woman and it was only natural that I could manage something as simple as a bus or train ride home alone.
3
Friends who knew us assured me that his surgery was a commonplace procedure in this day and age and that I wasn't to worry. In fact, some, those closest to us, even joked about him, after all wasn't it just like him to do whatever he could to grab my attention?
But everyone was wrong.  The event of his health issue was to signal a change that would be
final and permanent. You see he died.  Not right away, but seven days later after the surgery. He died with me holding his hand and stroking his arm in the ICU and from that moment on I would be forever changed. Actually the journey of my life began at the precise moment when he took his last breath. It was with this event that I was forced to re-invent myself and redefine my existence, something that I never could have hallucinated I would ever have to do. It was to become the story of my life.